Scientific Service consilium – Unique offerings for medical experts
Extension of indication range for the antibiotic agent Fosfomycin for intravenous use (available as Fomicyt® or Infectofos® or Fosfomycin Infectopharm®) – in patients with challenging infections
On 09-June-2020, the European Commission adopted the recommendations of the Committee for Medicinal Products for Human Use (CHMP) of the European Medicines Agency (EMA) for the extension of the approval of intravenous Fosfomycin as part of a re-evaluation of the medicinal product. The application was expanded to include the indications infective endocarditis, complicated skin and soft tissue infections and complicated intra-abdominal infections. At the same time, the drug´s good safety profile – for treatment of patients without age restrictions – was entirely confirmed in all indications and approved dosages.
Intravenous Fosfomycin is used in patients with difficult-to-treat infections, for whom the use of other (standard) antibiotics is considered inappropriate, since it is also effective, for example, against various multi-resistant problem bacteria.
A reassessment of the benefit and risk profile of intravenous Fosfomycin, including the areas of application and dosage information, had become necessary in order to adapt the product information to the latest state of the art in all European countries in which intravenous Fosfomycin has been used for 40 years already. In the course of this, a routine harmonization of the product information for this important antibiotic had to be carried out in this routine process of the EMA.
The indications and dosages of intravenous Fosfomycin have been updated and refined for all ages (including patients with renal impairment) based on extensive investigations including pharmacokinetic simulations.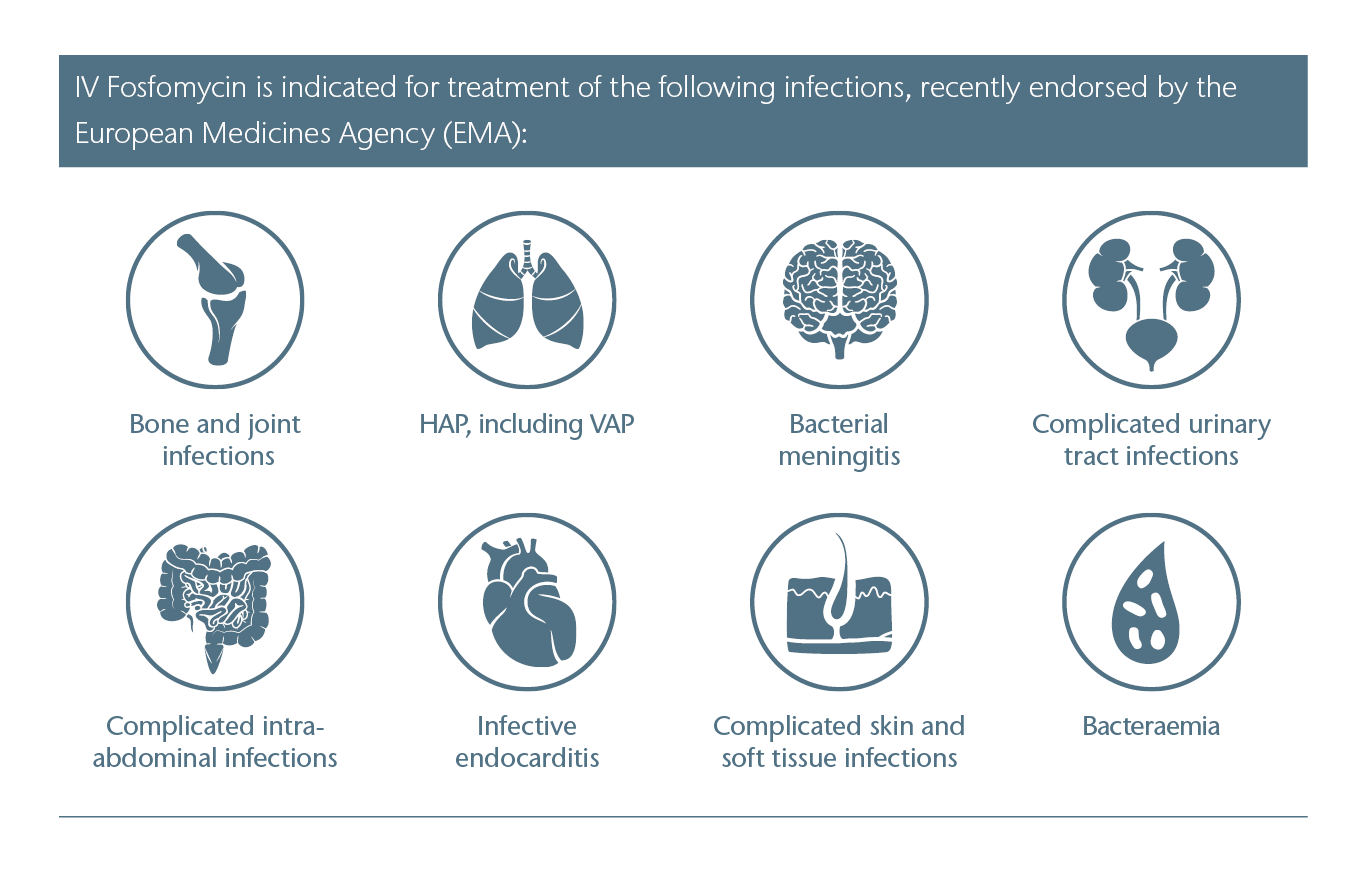 This reassessment underlines the importance of intravenous Fosfomycin for the treatment of patients with challenging infections with limited therapeutic alternatives as an antibiotic with a unique mechanism of action and chemical structure, which allows excellent tissue penetration even in tissues with poor accessibility. The substance at hand makes cross resistance with other antibiotics unlikely and allows an additive or synergistic effect in combination treatment with other antibiotics.
During this educational program, international experts from various countries will discuss intravenous Fosfomycin as an important and necessary antibiotic option in Europe and worldwide – especially after the recent outcome from the EMA – in various indications and for treatment of patients with difficult-to-treat infections.
To proceed and view the presentations, please enter your email address below.